BMW Z3 3rd brake light gasket replacement
Article reproduced with permission from Paul Lynch
A common complaint with leaks on the BMW Z3 seems to be in the boot and specifically around the third brake light – the root cause for this is because the gasket perishes over time.. it's a fairly cheap and straight forward process – but I couldn't find any guides for it so thought I'd throw one together as I've just done mine.
Tools/Parts needed:
1 x BMW replacement gasket (p/n: 63 25 8 389 735)
1 x small flat blade screwdriver
1 x medium Phillips head screwdriver
1 x T-8 precision screwdriver
1 x cloth/rag
Step 1:
Open boot and remove black plastic protective cover – this just prise away from the body work (pull it gently):
Step 2:
The PCB which powers the individual brake lights is held in place by 3 x Phillips screws -take your Phillips screwdriver and remove these (highlighted in green circles in below pictures to show location):
Step 3:
Next you need to remove the 2 x T-8 screws which hold the black plastic back plate to the front red plastic lens – these are located either side of the black plastic back plate:
All fixings should now be removed (3 x Phillips screws and 2 x T-8 screws):
All that is now holding the front lens and black plastic back plate in place are the 4 black plastic compression clips – these are located here:
All you do now is work from one side to the other pressing them (gently!) together – once you release the last clip – the front red lens and the back black plastic piece separate: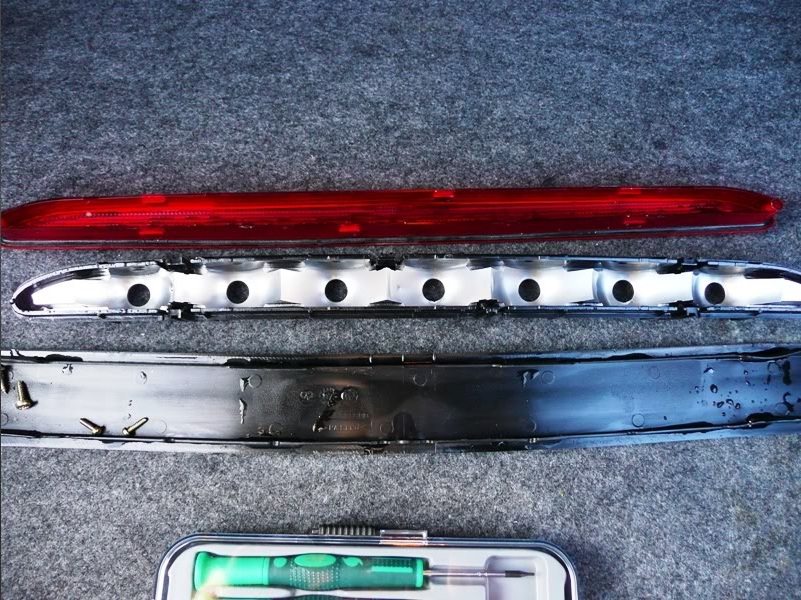 Step 4:
Remove the old gasket from the red plastic lens and replace with the new gasket:
Comparison shot of old gasket (left) and new gasket (right):
Step 5:
Take your cloth/rag and clean the area around the third brake light to make sure it is free from dirt and grime and to ensure that it's dry:
Final Steps:
Refitting is now just a reversal of removal – this can be quite fiddly though! – although once you have the red lens and black plastic backing clipped together its a fairly easy. The reason I suggested a small flat blade screwdriver above is because this will help enormously when it comes to clipping the black plastic clips onto the PCB.
Job done, and no more leaking boot!