Joined

Dec 5, 2011
Messages

50
Location
Model of Z

None at present
Many of you will already have read this, but in view of the possible demise of .net, I thought that would explain why the (sort of) owner of a Chrysler Crossfire is posting on here.
As I've mentioned on other recent posts, due to current work (five x 10 hour permanent nightshifts per week) and personal reasons ( elderly parents who are becoming increasingly dependant on our help for weekly shopping trips, gardening, etc.) my poor Zed was spending far too much time in the garage and not enough being used. Between when I had it MoT'd in April and when I sold it about three weeks ago, it had covered just 120 miles.

Hence the sale. I couldn't justify the cost of keeping a car to go nowhere and felt that it was too costly for me to run as a daily driver. My wife didn't like driving it as being quite short, couldn't get comfortable in it so there was no option of her using it as a daily driver.

I have to say that it was with a heavy heart that I watched it disappear round the corner at the end of my road as the new owner drove it away.

Onto pastures new, though and we also sold my wife's sensible diesel hatchback to buy her a convertible that she likes and feels comfortable in. Initially we looked at a Mk 3 Mazda MX5 and found one locally that she really liked, complete with a Mazda bodykit, 2.0 engine, sports spec with a Bose sound system and 18,000 miles but the dealer was too greedy and wouldn't do a mutually agreeable deal, so we moved on.

Bearing in mind that we were looking for a car for her to use on her relatively short daily commute to work and for us to use for weekend trips and holidays I wasn't too bothered about engine size so tried to look for a 3.0 Z4, but everything within our budget had galactic mileage so again we looked elsewhere and came up with this;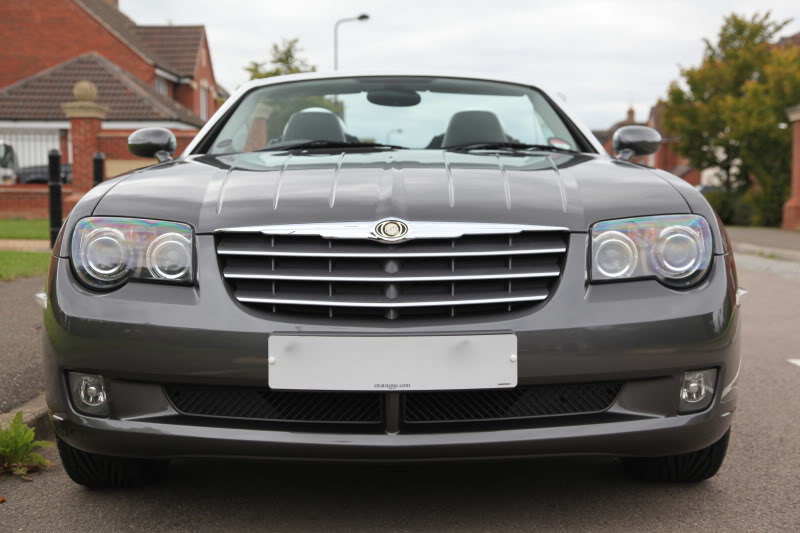 Unlike the Zed which is a German car built in the USA, the Crossfire is an American car built by Karmann in Germany and is largely Merc SLK under the skin.

I am well aware that it is a tourer and not a true sports car, but the days of driving like I stole it are largely over for me.

Amongst the plus sides are that it was very good value at 6.5k for an 05 plate car with 36,000 miles on the clock, the wife loves it and grins like the proverbial Cheshire Cat every time she drives it and the exhaust note is absolutely fantastic when pressing quite hard on the loud pedal.

I had a friend of mine who is a mechanic and who looked after my Zed, check over it and he gave it a clean bill of health which was a relief, so some fettling here and there and a good waxing will follow.

It is a true Marmite car, which will probably not impress many of you Zedders, but it pleases the wife who is capable of giving me more grief and I like it too.

Thanks for the help and advice I've received from many of the members on here over the last two and a half years. I will still look in and contribute when and if I can.

Who knows, when my circumstances change, another Zed could be back on my drive?