So a couple of weeks ago my Dakar was a bit flat at lower revs plugged in the c110+ showing a disa valve activation fault.
After a bit of hunting around I came across this video showing Disa overhaul
View: https://youtu.be/5F6GTrF9hR0
What I discovered was it seems that the motor side of things is a sealed unit so as long as working it's good to go and all that really gets changed is the diaphragms so I thought I could do that.
M44 disa
MM43 Disa
Disa valve is the same on both engine bar the bolts ( which are different and not interchangeable) so bar the extra nut for dipstick removal is pretty much the same
I had a spare from Lynne's replacement engine do fitted that but rattling a bit.
Once removed I dismantled the faulty one and found that the upper diaphragm badly damaged.
After a bit of looking around I discovered the lower diaphragm relatively easy to aquire the upper seal less easily to obtain found a guy on ebay who did them but only in kit of 3 so as disa easily removed decided to remove them both to look at the condition of them
When you look through the hole the rod comes out of i could see the damage to the diaphragms .
So bought the kit of 3 seals
Upon inspection of the other 2 discovered both had play at the flap.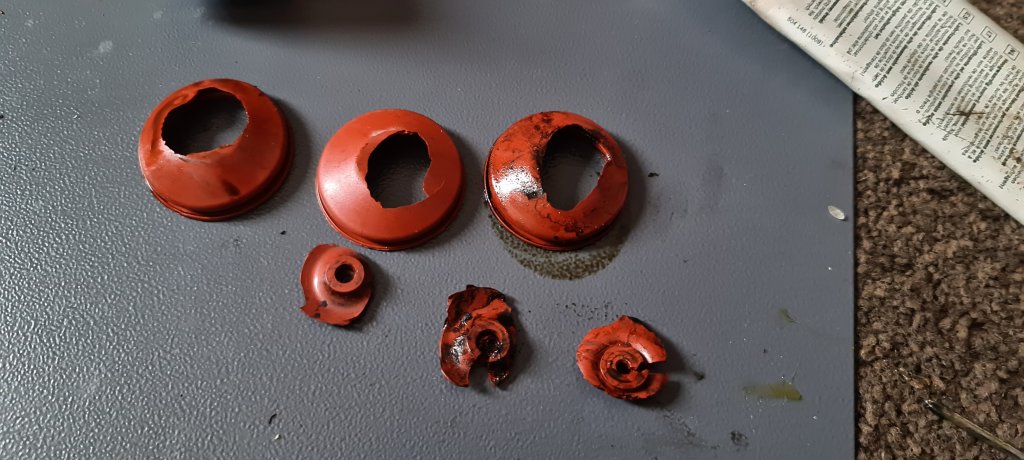 After reassembled greased the pin on the flap and greased the hinges on the flap have to say play in valve is much improved .
I would have to reckon based on the 3 I have seen the upper seal fail seems to be fairly common issue.
This is a link to the upper diaphragm set I bought
https://www.ebay.com/itm/164145839176