Joined

Dec 5, 2011
Messages

328
Location
Model of Z

///M S54
Fri 04 Sep, 2009
Nov 2001 (51) Z3m S54 Roadster Imola Red with Imola Red / Black interior
pic as purchased:
Original eBay advert "for sale" pictures from which I bought the car (September 2009):
pic with current spec:
There were only 73 RHD S54 engined Z3m's ever produced and this is 1 of the 4 examples in Imola II Red.
46,000 miles @ Purchase
Private Purchase on Wednesday 2nd September 2009
Specification:
* Z3M 3.2L S54 Engine
* Registered in Nov 2001 (51 plate)
* Registration Plate BMW 23M (fitted April 2011)
* Imola II Red
* Imola Red & black leather interior.
* Electric roof in black.
* Raid "Daytona" sports airbag steering wheel [fitted 07-02-10]
* Air Conditioning.
* 2 Stage Heated Seats.
* Electric Seats.
* Cruise Control.
* Headlight Washer System.
* Heated Wing mirrors and Washer Jets.
* Harmon Kardon Surround Sound System.
* [JVC Audio System - including headunit with MP3 capabilty and 12 Disc boot-mounted CD Changer with MP3 capabilty fitted April 2004.] Changed to Becker Cascade Head Unit with iPod interface, Bluetooth hands free and Sat Nav
* Shorty Radio Aerial.
* 4 sets of alloy wheels:
- 18" AC Schnitzer Type II Race Spilt Rim Alloys
- 18" AC Schnitzer Type III Alloys [bought new 06/09/11]
- 18" AC Schnitzer Type III Race Split Rim Alloys
- 18" Breyton Magic Racing Split Rim Alloys [SOLD Aug 2010]
- 17" Original "Deep Dish" Alloys
* Storm Motorworks Titanium gear stick and cigarette blank
* AC Schnitzer "digital" gear stick
* AC Schnitzer "blackline" gear stick and Hand Brake Handle.
* AC Schnitzer Roll Hoops.
* AC Schnitzer Sport Suspension.
* AC Schnitzer Pedal Covers.
* AC Schnitzer Foot Rest for driver.
* [AC Schnitzer Floormats]. Changed to OEM floormats
* H&R uprated Anti Roll Bars front and rear [fitted 14-04-10]
* Stainless Steel Braided Brake Hoses front and rear [fitted 14-04-10]
* Stainless Steel Braided Clutch Hose [fitted 14-04-10]
* BMW Z8 Chrome Washer Jet Nozzles.
* Hoen Xenonmatch bulbs fitted to all lights both interior and exterior
* Halo Projector Headlights [fitted 22/10/09]
* Shadow Side Indicator and Front Sidelight units [fitted -7/10/09]
* Phillips Silvervision Indicator bulbs fitted at the sides, front and rear
* Eisenmann 76 mm Racing Exhausts [fitted May 2004].
* Live Engine Remap
* K&N Performance Air Filter.
* Strong Strut Alloy CL Front Strut.
* Strong Strut Alloy CL Rear Strut (not currently fitted).
* Strong Aero Ducts.
* Modified (lightened clutch pedal)
* Leatherz Imola Red Leather Top Box Cover [fitted May 2004]
* Leatherz Imola Red Leather Steering Wheel Tabs [fitted May 2004]
* Leatherz Imola Red Leather Door Armrests.
* Leather Centre Armrest / Cupholder [fitted 23/10/09]
* Black Hardtop.
* OEM Hardtop Cover.
* Black tonneau cover.
* OEM Window blanket.
* Toolset all present and complete.
* ///M Mobility kit sealed and complete.
* OEM Boot Rack fitted to spare boot lid.
* OEM BMW Fire Extinguisher (2001 model fitted 05/02/10)
* OEM Hard Case for Boot Rack (sourced Jan 2010)
* OEM Soft Case for Boot Rack Hard Case (sourced April 2010)
Prior to purchase:
The car was previously owned by a member on here (DavidM).
I purchased the car from an American who had purchased the car from David 3 years ago (with 36,000 miles). He had returned to America and left his brother in law to sell the car.
It was sold with Full documented BMW service history and all previous paperwork (MOT's, etc...), receipts for various additions and unusually all keys including valet key and the small plastic wallet key.
It was also supplied with a "spare" boot with OEM Luggage rack fitted, part worn rear tyre with repairable nail damage and original exhausts.
There is some history of the car on here (and some rumours) but I managed to speak to David about the car and he informed me of the following:
- the car had failing of the fan and radiator whilst on a Zroadster road trip (highlander II) and was recovered by BMW under warranty for repair. This was repaired by BMW (recorded on the warranty documentation). What is not recorded on the warranty records is that at the same time BMW replaced the Shell Bearings (a recall item on S54 M3's but not S54 Z3m Roadster or Coupes) but they would not record the work as they did not want to publicise this fact.
- the car has had a replacement differential.
- the car never suffered from the well documented Differential bracket / spot weld failure (all boot spot welds are still original and as new)
- David was contacted by the next owner about 5 months after he sold it. The car had been spun on a roundabout and required a new rear wheel (the reason for the call) and some axle work. I have had the car inspected and it is mechanically sound and there is no evidence of previous bodywork or mechanical damage so I am satisfied that any damage caused was not structural and has been professionally rectified.
As can be seen above the car is highly specified on purchase but was presented for sale in what can only be described as an "unclean" state. On close inspection it was obvious that the car was in fantastic condition inside and out but first impressions were less than would be expected of such a high performance car. It probably goes some way to explain as to why the car remained unsold on AutoTrader for some time (plus the fact it was not advertised as a rare S54 example) and why I purchased at what I consider a fantastic price.
I intend to keep this car for a considerable amount of time (didn't I say that about my last S50 ///M version, but this was too good a purchase to miss) and will maintain this journal of my exploits.
Service History: (note - S54 service intervals are a lot longer than S50 engines)
09-10-01 [0 miles] Pre Delivery check (BMW Ocean Torbay)
12-11-01 [1,024] Runnig-in Check (BMW Ocean Torbay)
20-01-04 [12,221] Oil Service and Brake Fluid (BMW Ocean Torbay)
25-01-05 [24,522] Inspection I and Microfilter (BMW Whitehouse Ruxley)
17-02-06 [34,718] Brake Fluid (BMW Whitehouse Ruxley)
11-05-06 [36,913] Oil Service (BMW Henry Brothers Glasgow)
12-03-09 [47,210] Inspection II and Microfilter (BMW Wollaston)
12-03-09 [47,210] Coolant Change (BMW Wollaston)
12-03-09 [47,210] Brake Fluid (BMW Wollaston)
12-09-09 [48,157] New Clutch and DualMass Flywheel (David Paul Warrington)
13-04-10 New MAF Sensor fitted
************************************************************************************************************
Fri 04 Sep, 2009
First job is to give the car a basic clean, clay and wax. A full detial will not be carried out initially partly due to time constraints (ie Z Roadster /BMW event in two days so I only have half a day free before then) and the present weather /lack of space to do indoors. This will give me the opportunity to record any remediation work required to the bodywork / paint.
I have started with the wheels / wheel arches:
The way they were presented for sale, some light curbing (Breyton lips really do extend past the tyre wall). Generally dirty but no defects to laquer and very little brake dust "crusting".
The inside wheel arches were quickly cleaned, mainly to see if any evidence of repair / damage. Arches look in great condition with no sign of previous damage / repair work.
The wheels were cleaned and quickly polished. As suspected really only superficial dirt and very easy to clean.
The finished wheels (nb pictures are of rear wheel but all wheels in identical condition bar light curbing to rears)
I refitted the wheels with fresh Copper Grease and ///M bolts previously sourced for my S50 ///M.
I can live with the slight rear curbing for the time being but will get refurbed at some point. One of the Breyton centre badges has some wear so will source a replacement.
I had been trying to source these wheels second hand for 6 months for my previous ///M (they are discontinued and I have been told by Breyton that all excess stock was melted down). I am very very pleased with the condition of them and would have happily paid £1,500 for them second hand (they were c£2,500 new).
Wheel Specifications are:
Breyton Magic Racing (2 piece)
Front 18x8.5 ET38
Rear 18x9.5 ET19
Standard Z3m wheels are
Front 17x7.5 ET41
Rear 17x9.0 ET8
This means that the Breytons vary from the original wheels as follows:
Front - 10mm less inner clearance, outer extended 16mm
Rear - 17mm less inner clearance, retracted by 5mm
The fronts really do fill the wheel arch and first impression is that they must catch the liner (especially given the lowered AC Schnitzer suspension) but they obviously do not.
The rears may need extending 5 to 10 mm with hib centric spacers.
I will take more pictures of the wheels fitted following first body wash tomorrow (ran out of light).
***********************************************************************************************************
Sat 05 Sep, 2009
After last nights exploits with the alloys it was time to give the car its first clean. The intention was to wash the car, clay and wax. This would allow me to identify any defects that will need remediation later.
The car was purchased in what I would class as an unclean condition but on inspection I was confident that this could be easily rectified,
First a few pictures of the car before I remove the hardtop (with clean alloys :wink: ). I really think the black top suits the Imola Red well.
An example of the "stained" paintwork, the clay bar should easily deal with this.
I decided to give the engine bay, boot surround and door frames a light wash in some cheap car wash
Before, pretty grubby but only superficial
After light wash and its gleaming, no need for degreaser
Time to take the hardtop off and examine the roof. I had inspected this on viewing to purchase and new it looked rough but was basically sound. We actually had trouble getting the hardtop off when I viewed as the rear fixers had siezed. A little WD40 and it released. This time worked easily.
On closer inspection of the roof it is in much better condition then I thought. It is very taught with no wear marks at all. The only issue being the canvas pulling from the rear window (which is a pretty common problem). It can be rectified with sealant or a new window if necessary.
I decided I had time to clean and reseal the roof as I was keen to see what it looked like when cleaned up.
Before:
No wear marks in usual place above passenger window
Unpleasent looking marks on the roof I was confident would be easily removed, I have seen a lot worse with green mold clean up fine
Old faithful Autoglym roof cleaner
I resealed with some BMW product which came with the car, after two coats and a little drying time the roof is in fantastic condition, actually looks like new.
It was obvious that the hardtop had been on for a considerable time and I decided to leave the window issue for a few days to let the roof stretch a little, it really is a lot taughter than my S50. The window had started to "flatten" out even after an hour so I'll let roof and window settle and sort out next week. The window is also in great condition and all it needed was a light wipe to remove all marks (the hardtop had been fitted with the window blanket on which really had saved the window from scratches).
After my little sidetrack with the roof time to get on with the main job of the day. I gave the car a good wash with Macguires shampoo and dried off. Time for the clay bar.
Striaght away there was plenty of contamination picked up from only a small area
Claying gave me the first chance to inspect the paintwork properly.
The are the expected stone chips on the front, pretty light to be honest and various ones scattered around the bodywork. The worst is actually on the boot lid. Quite a few of the chips had not been touched up but my local dealer had no Imola in stock so I will attend to these next week. The good news is that non showed any signs of rust.
The only thing I could find that was not an easy remedy was a small area of "burnt" paint on the boot above the centre brake light. This is a sign of over enthusiastic previous polishing and so I will have to get the paint thickness checked over the car before carrying out any more aggressive machine polishing to remove swirl marks (given the condition after claying I'm happy to leave this until next summer as the car will not be used much for the remainder of this summer).
A picture of the burnt paint, not easy to photograph:
Finally a quick polish
I am really chuffed the way the car looks after such a basic detail, with only one very small area requiring more than basic attention (the burn mark).
In my enthusiasm I decided to give the interior a light clean, again to give me a chance to examine in more detail. I used warm water with a little vinegar and a microcloth to wipe over. I finished off with some gummi fledge on the rubber seals and a quick polish of the chrome hoops.
The interior was a lot cleaner than the outside and is in fantastic condition. There is some slight wear to the driver bolster and I have already ordered the dye from Germany to rectify (nowhere near as bad as my S50 which dyed back to orginal colour fantastically). Apart for that the interior is in flawless condition.
Some finished pictures
I've never seen a "shortie" aerial before and it looks great
My favourite Z8 chrome nozzles (I had just fitted these to my S50)
The superb Gummi Fledge for rubber seals
AC Schnitzer Polished Stainless Steel Roll Hoops
Some interior shots. I've not had chance to fit my Becker Head unit yet, but the JVC unit already on the car is superb.
AC Schnitzer short shift gear stick and handbrake
The car has Leatherz rear top box cover and steering tabs fitted. I also came with additional Leatherz door trim which had not been fitted. I thought I would fit them and see what people think.
A final shot - my S50 in the background
In summary I knew the car had not been presented well for sale but underneath had great potential. It has exceeded my expectations and the roof in its as new condition is a real bonus
**********************************************************************************************
06 Sept 2009
Total BMW magazine from December 2004 featuring my car and two other Imola Red ///M's (x2 S54's and x1 S50).
I have contacted Total BMW magazine to try and get a copy of that edition but they have said it is out of print and not available.
Given this I thought it would be OK to post up and would add value to this journal as you don't often get the chance to see some of the history of these cars (if this is a problem then mods please delete this post :wink: )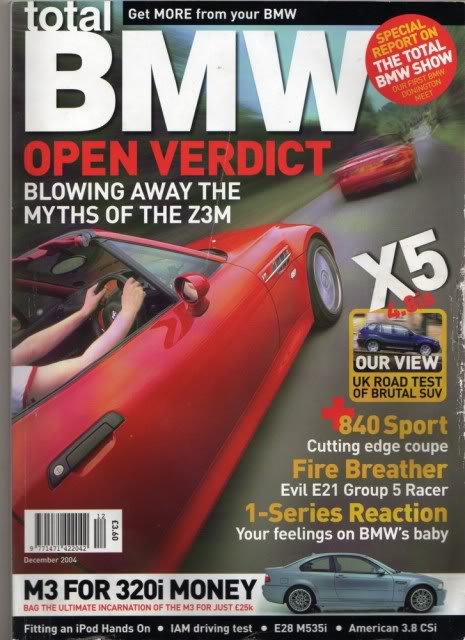 ***********************************************************************************************
Mon 07 Sep, 2009
Car had its first run out yesturday to the BMW meet at Tatton Park. Great turn out of Z's and it was a pleasure to say the car is now mine
Took the opportunity to have several small parking dents and one unusual raised dent (bonnet closed on something in the past?) taken out by a dent guy. Got a fantastic deal of £100 for around 8 dents to be removed (usually costs c£70 first dent and £30 for 2+ so by my reckoning would have cost me around £280 normally).
He did a great job but it did draw a bit of a crowd and I had lots of "encouraging" words from fellow zroadster members who enjoyed watching him get some rather impressive tools into my door :shock:
************************************************************************************************
Tue 08 Sep, 2009
Update - Clutch
I had noticed that the clutch was very heavy and had to be nailed to the floor to change gear and trundling around in traffic last Thursday it was getting harder to change gear. At the BMW show at Tatton last Sunday I had got the chance to ask another Z3 S54 driver and my brother (Z4 S54) about their clutches and both said it did need nailing down to change. However, my brother did say that his is "notchier" when cold and get easier as the car warms. Mine was the opposite.
I had asked DavidM if he'd had a competition clutch fitted and he said no but the clutch had always bothered him and he would have got it changed.
Driving back from Tatton I had the chance to try out some "overtaking manouvers" and the car was awesome (albeit restrained with SWMBO in the car).
But something was niggling me so last night I decided to go out when the roads were quite and have my first real blast to see if I could live with it as is for now (Roof down in the dark
).
Massive smile on face for 20 minutes then I started to get some clutch slip and the distinctive burning smell of an overheated clutch :roll:
So I dropped the car at my indy this morning for him to look at but I think a new clutch is in order.
I'm actually quite relieved as I confident this was manifesting itself in the clutch not feeling right (although not actually slipping) in the limited day to day driving I had done in the car. Given this car is a keeper for me I would rather know the clutch is up to scratch and is not affecting the performance of the car.
Hopefully my indie will be able to get this sorted for the weekend and I can see what a difference it makes on my trip over to the Harewood "cars in the park" meet on Sunday.
Update: 10/09/09 Indy called me today after removing gearbox and examining clutch it does need replacing. Also he examined the dual mass flywheel and reported that it had c30mm of play and he would expect c10mm. He said he could leave it but if I'm keeping the car a long time he recommended I replace it whilst the clutch is replaced. Given that I am and I want the car spot on I told him to replce both. We then had a 5 minutes discussion about how nice the car was
(and how rare). Not sure I will get it back in time for the Cars in the Park event on Sunday which is the most disappointing thing. He's going to try and fit it in Friday afternoon if the parts arrive in time (they don't work Saturdays).
Update 14/09/09 Picked the car up today from Indy, new clutch and Dual mass flywheel fitted. I'm glad to report problem fully cured. Clutch now has perfect "biting" point and gearbox has a nice precise feel to it. Managed to get in a 30 min blast on country lanes and glad to report performance is now spot on
Hopefully the clutch and flywheel should give many a year of trouble free service now :drive
*************************************************************************************************
Thu 10 Sep, 2009
New Remote Key:
I received a full set of keys with the car (x2 remote locking, valet and small plastic wallet key)
One of the main remote keys was mint but one was very worn and had the usual degraded rubber buttons typical of this type of key.
With my previous Z3m I had the same issue and purchased a new key off eBay so I decided to do the same.
You can purchase new keys with the electronic parts for c£20 on eBay. These are great if you have lost a key but you have to programme them into the car.
you can also puchase empty cases (ie no electronics) for c£10 + £2 postage which are great if you just want to replace a key as you can just swap over the electrics and use the key with no more messing around.
Either comes with a "blank" key costing £4 to get cut.
I purchased the key from here
eBay
(the seller is *capricorn80*)
The key was even better than the one I had purchased for my previous car and actually feels like its OEM (the previous one was good quality but you could tell the difference side by side with an OEM one, this one you can't).
Here are the 2 keys, the original with worn buttons on the right and the new one after the blank key has been cut on the left
Remove the rear cover plate to reveal 2 small screws to undo
The two bodies, the original on the right has the eletronics still in, the new one on the left is empty
The electrics just lift out in one. Note there is also a small immobilisor chip (loose underneath) that also has to be swapped over
Simply install them in the new body, put on the rear cover and job is done.
Brand new remote key for £16 all in
**************************************************************************************************
Thu 24 Sep, 2009
Update: various cosmetic changes
I ordered a few bit and pieces based on things I had done on my previous ///M and liked.
Firstly fitted chrome door handle covers. These were sourced from eBay (£24.99 delivered steel metal type, you can get cheaper ones but these feel more robust) and are standard e36 (3 series) therefore you get 4 but have the option to fit two without key holes which I think look neater (worst case if central locking fails you would have to pull off the drivers one). These simply stick on and come with the required sticky pads.
I think these look even better on my red ///M and work with the stainless wheels really well.
To match the handles I got chrome ///M door locking pins with chrome base surrounds. These are really good quality, the old ones just pull off and these push on. They have an internal rubber grommet and so are a very snug fit. The chrome base comes with 3m sticky pad already fitted.
The wiper rubbers were worn so I fitted the new "AERO" type (as per current BMW models). There was recent thread on these (search AERO) and they were great on my last car. As well as looking neater they work great and are silent in use. Again sourced from eBay (for £10.44 delivered). They take all of 2 minutes to fit, the trick is to turn ignition on, turn on wipers, turn ignition off to stop wipers at vertical. You can now pull away at hinge from the window without the bonnet stopping them :wink:
old OEM ones
the new and old
the new
**************************************************************************************************
Thu 24 Sep, 2009
Update: ZHP "short shift" gear stick fitted
The car had been fitted with an AC Schnizter "short shift" gearstick (ie shorter then OEM to give a quicker, more controled gear change)
I was not a massive fan of the look of this, a bit industrial for my liking but thought I would give it a go. I loved the precise feel it gave the gear change compared to the OEM one on my last ///M but could not get used to its looks and "cold" metalic feel.
I did a bit of research and decided that a much praised short shift gearstick from ZHP was the one for me. This was leather and importantly could be fitted with the ///M 5 gear motif (rather than the 6 gear). It is not illuminated as per the OEM but I hardly ever drive the car at night and I wanted to keep the short shift feel more.
I could not source one from the UK so ordered from leatherz in the USA for $70. (I also ordered OEM front mudflaps which BMW UK could not source for me for $28 and postage for all was $51.57).
Not the best time to order from the USA with the current exchange rate but I was keen to try out this item.
Fitting was a doddle, AC Schnitzer one had 3 small hex screws to undue and then just lifted off, the new one just pushes on.
AC Schnitzer one
Both side by side, note the ZHP is even shorter then the Schnitzer. Both are "weighted" to give a smoother feel.
The ZHP one fitted
I'm really happy with the way this looks, a lot more OEM than the Schnitzer but more importantly it gave me the excuse I needed to take the car out for a spin.
I can report that it feels fantastic, even better than the Schnitzer, more precise and a much better feel in the palm, highly recommended
***********************************************************************************************
Sun 27 Sep, 2009
I finally got a chance to get the car out for its first real run yesturday (first since I got it and first since new clutch and flywheel).
Was a nice sunny afternoon so decided to take a run over to Demon Tweeks in Wales. I can get there via some great A and B roads in about 40 minutes and stopped off via Outlon Park Race Circuit on the way.
Wow :shock: , the car is awesome, just a nice concentration of traffic to have some good safe overtaking and really get to know the engine. The exhaust note, the short shift and the acceleration was so intoxicating, roof down and massive grin all the way.
The car is so much more planted around the twisties then my previous ///M, probably a combination of my previous ///M needing new dampers (after 80,000 miles) and the AC Schnitzer kit on this.
I think the engine remap has moved the rev limiter back to 8,000 RPM as per the S54 M3's and it reaches it so effortlessly I really had to concentrate on my gearchanges to get the timing right. Seems much free'er revving (and hence seems to push on that bit more urgently) than the S50 especially over 6,000 RPM. Not sure how much of this is down to the sports exhaust as well.
Unbelievably the British Automobile Racing Club had there series deciders on at Oulton (I did not check if anything was on before I set off) and as I arrived the track was full of BMW privateers includng a race prep Z3. Had great fun watching people go around (or try) the skid track at the entrance and got some great feedback on the car from people stood around.
Today was what its all about for me, a real bit of exhilerating fun in the sun to remind me of what driving should be about, its what I'll be thinking about on my daily motorway chore to bring a smile back to my face
Was great to see quite a few other zeds out and about with their roofs down as well.
Is going to be a long winter for me with the Z in winter storage but yesturday by itself will give me something to look forward to next spring :drive
This year has been a massive and fun learning experience with the Z3's and this forum has been invaluable to me. Best decision I've made in a long time to invest in a Z3 hobby car
**********************************************************************************************
Mon 28 Sep, 2009
BECKER CASCADE Headunit Install:
I had removed this headunit from my previous ///M and finally had chance to install it last weekend.
I did quite a bit of research on headunits for my first Z and settled on the Becker for functionality (Sat Nav, Bluetooth, full iPod interface) and maintenance of the OEM look.
These really are the "bees knees" of headunits and fit / suit the Z3 console so well. The cascade version has 15 different display colours so you can get an almost perfect match to the Z3 internal lighting.
There was already a good JVC unit fitted when I bought the car which actually looked / performed well but you can see how much better the Becker looks in terms of fit etc....
The iPod connection is in the glove box were I leave an old 40gb unit permanently connected. The bluetooth hands free mic is easily rooted up at the top of the windscreen next to the rear view mirror and the Sat Nav GPS reciever is tucked away in a corner at the top of the dash, all wiring completely hidden.
JVC unit removed
Becker Cascade Installed
more info on the Becker
click here
**********************************************************************************************
Sun 04 Oct, 2009
Well I got around to sorting out the roof which had "come away" from the rear window seal.
This is a common problem thats looks a lot worse than it is (it looks like the canvas has ripped but it is just the edge, great bargaining point if your looking a buying a Z and it has this problem :wink: ). I'm convinced its caused by the "grip"on the rear window loosening over time. I had this problem with my previous ///M which was cured when I fitted a new rear screen ie the new grip "kept hold" of the canvas roof edge.
On my new car the rear windscreen does not need replacing so I decided to get the extra grip back by using silicon sealent.
I'm convinced the hard top had been on the car for some considerable time before I bought the car and so I have left the roof for 4 weeks to "stretch" back into shape. This has definately worked and made it very easy to re seal the edging.
I released the roof catches so that the roof was open about 2 inches. This releases the pressure on the canvas roof whilst the sealant cures overnight.
It was just a matter of pulling the canvas edging back a little and "squirting" a bead of sealant underneath and then pushing the edge under the rubber gripper.
The following day the sealant had done its job and the roof can be raised lowered now without the edging coming away
This is how it was when I first removed the hardtop last month
And this is the finished job, as good as new
I used Loctite silicon sealant from Halfords (nb you don't need to use much this was an old tube I had)
**********************************************************************************************
Thu 08 Oct, 2009
Update: replacement "shadow" indicator and sidelight lenses.
I saw these advertised on eBay and got both sets for a total of just over £20 delivered. a bit of a bargain as they cost considerably more than this from america :wink:
They look like they are unused and still have the original seals protecting the bulb holes in transit.
Comparison the the original "clear" lenses
They are tinted plastic and not just a film coating so will not fade / wear off over time. OEM quality so very pleased with them.
Comparison on the car before/after
The fronts in particular are more "stream lined" to the bumper than the OEM ones and give a neater finish.
I'll keep hold of the OEM clear lenses in case I ever fancy a change back but I'm pretty chuffed with the way these look and the quality of them.
For reference they are very easy to remove, the units just push forward onto a spring and lift off from the rear, 5 min job to do all 4.
I retained the LED 501 bulbs fitted to the front sidelights (they came with amber bulbs as in the USA these are indicators not sidelights). The side indicators were already fitted with stealth chrome bulbs so I also retained these rather than have an orange tinge to the lens.
************************************************************************************************
Fri 09 Oct, 2009
I had a chance last night to take some better pictures before Winter sets in good and proper.
The first one is a little dark but I've included it because it was taken in manual mode and actually shows the red more realistically. Cameras tend to overcompensate for reds in Auto mode and the car usually looks more "orange" in pictures than it is in the flesh. (ie compare it to the second picture which was taken in full auto mode and although "brighter" the red is not as accurate)
It was getting a little dark for pictures so there is some camera shake (I didn't have my tripod) but these will do until next summer. Now which one shall I have as my desktop background
Manual Exposure, a bit atmospheric.....
The same picture in Auto mode.....
A few more in Auto mode......
From the drivers seat.....
All Open.....
note: the car has simply been hand washed with McGuires shampoo since its original clay and polish.
I have reproofed the roof again as I did not feel the OEM proofer I used was up to the standard I'd had on my first ///M (ie water was "pooling" a little in the centre) So I used the "no messing" tent proofer (a lot cheaper than the car specific stuff and works as good as the best of them). The water now "chucks" itself off
*************************************************************************************************
Sun 11 Oct, 2009
I travelled over to the BMW Club meet at Sytners in Sheffield today. Unfortunately the most direct route for me is along one of the best driving roads in the UK, the Snake Pass over the Peak District
.
I decided to set of early in the hope of avoiding any traffic but with enough light to take some photographs..... and I wasn't disappointed having the pass virtually to myself :drive .
The roads where a little greasy but the colder morning air at this time of year really added some "punch" to the car :wink:
Unfortunately the way back was not so much fun, by 3pm the road was full of "Sunday Drivers" as far as you could see :head:
ps Anyone spot the new addition ?
***************************************************************************************************
Thu 22 Oct, 2009
I had installed these OEM quality aftermarket headlights on my first Z3m and loved them so had to fit them to my new one
I documented the first install
HERE
The only issue I had this time is that the passenger side indicator lead was too short by about 2 inches and so I had to extend the wiring :head: Others have reported this and it seems to depend very much on how the cars wiring harness has been fitted at the factory ie on this car there is much more electrical tape connecting all parts of the wiring harness together in the engine bay meaning there is no free play in the indicator wires.
I also decided to fit some OSRAM aftermarket bulbs to the dip and headlights. This will save me removing the units to fit these later (its a real pain to replace bulbs with the headlights in place).
The replacement bulbs, about £10 per pair from eBay (nb same bulbs for dip and headlights)
The replacement lights fitted
As with my first install I wired the Halo rings to the sidelights which gives much better visability to the car with just sidelights on.
I'm keeping the original units in case I ever want to return to OEM look. I'm not really a fan of aftermarket headlights but I really think these freshen up the look of the car without looking to much aftermarket (as they are very much in the style of the current BMW range).
The real bonus though is that the Projectors really do offer much better performance in the dark than the original lights which are a bit useless.
****************************************************************************************************
Fri 23 Oct, 2009
Well I finally got around to fitting the centre armrest I purchased from Simon at
http://www.justroadster.com/
These are made using the OEM centre drinks holder accessory which is adapted to have a leather padded armrest lid.
I have the second production one (Titan Tim got the first one) and the first to be fitted to a Z3 with the non smokers package.
Installation took me............ 2 minutes
On cars with the smokers package the ashtray has to be removed (really easy job) but on mine without an ashtray you simply pull out the storage tray and put in the armrest. Install time included taking pictures its that easy.
Original non smokers centre consol
Pull out the front storage tray and rear storage tray mat
There is a small lip on the front of the new armrest
This fits into an existing hole in the centre consol that is normally hidden by the ashtray / storage tray
So you fit front lip first (lip into hole) and push the rear down into the rear storage tray.
The installation instructions suggest screwing the rear section down into the centre consol but I did not do this. As this is basically an OEM part with a customised lid/armrest the fit is absolutely perfect. Pushing the rear down into the rear storage tray is so snug it will not move anywhere unless you want to pull it out again. So I decided to leave it like this.
The quality of the customised lid is OEM. This part is hand made and Simon sends it off to be upholstered in good quality leather.
The lid lifts up to reveal a second drinks holder and concealed storage tray
I think the black really suits the 2 tone leather in my car, I have a red/black/red/black/red/black/red effect now running across the seats. My car already has additional red leather on top of the rear unit (between the headrests) and armrests but despite this I think this unit in red would be too much and the black suits it better.
After the exhaustion of fitting
I had to treat myself and go for a drive to try it out. I did a combination of motorway cruising and country lanes. At first it felt a little odd having it there but it soon felt very natural. The contoured shape if perfect for me so as not to be obtrusive whilst changing gears quickly but at the same time allowing a relaxed driving position when cruising.
The adaption of the OEM part to create an armrest and hidden storage try is extremely well implemented and when fitted looks as if it was made with the car which is always the deciding factor for me with aftermarket add ons.
For info the 3 small "notches" at the front of the unit are actually to hold american coins (they are spring loaded and compress down) an indication that the base OEM unit was designed for the american market. Aparently they can be "enlarged" to hold UK coins but I'm not going to do this as I would not leave coins on display at any time for security reasons. I think they actually look quite good as a feature and don't detract from the asthetics of the unit.
***************************************************************************************************
Thu 05 Nov, 2009
Well its time to wrap the car up for the winter.
Given the dark nights and my busy weekends leading up to xmas and pendng house move I won't get chance to drive the car until the christmas break (depending on weather between xmas and new year).
So battery disconnected after full recharge and covers go on.
I store the car in a secure car port which is open to the wind at one end. (the car will be stored in a garage from next month)
So I bought an OEM outdoor cover earlier in the year. This is a great fit but I have noticed it does cause some fine marks on the paintwork presumably from residue dirt blown in / picked up and wind movement of the cover.
So I decided to get a "softer" indoor cover to try and stop this. I was keen that this should be as "tight" a fit as possible to mitigate any wind movement abrasion.
I had looked at the
Classic Additons Tailored Indoor Car Cover
which several people I know use for their supercar storage. But these run out at c£225 which was a bit exessive for my needs.
I kept a look out for a bargain tailored solution on eBay without much hope so you can imagine my delight when a Classic Additions Z3m tailored cover came up for sale :shock:
It was on a 9 day auction so I patiently waited for the auction to end and after arguing with myself how much I was willing to spend (and deciding on £125) I was more than pleased to get it for £52 delivered
The marvels of eBay what a bargain.
Well it arrived today and is totally mint, unmarked and clean with the original storage bag.
Here are some pics with it on and then "overcovered" with the OEM outdoor cover. I think this will look great when its stored in a garage without the need for the outdoor cover and in the meantime should stop any abrasion in the wind.
As you can see it fits like a glove
(ps apologies for the marks on the photos, it was lashing down with rain when I took them :roll: )
Air vents are fitted to the outdoor cover to let moisture escape and stop wind from being trapped.
One happy camper with a real bargain!