Zorg Guru (V)
American Zeds
The M44 Massive
Joined

Sep 2, 2013
Points

193
Location
Model of Z

Z3
Gary, I had bought some used tires soon after I had bought the car and noticed how bad the front tires were. There are a few junk yards not to far away and I stop by on occasion to check what used tires have come in. You'd be surprised what you can find. I have come across tires that were bought for a car less that a week before is was in an accident. The receipts were in the glove box. And I'll get them for about 20 to 30 percent of the original cost. Sometimes a woman (or man) will go to a tire store and the salesman will talk them into buying 5 tires, the 5th being the spare. When the car gets to the junkyard, the tires are taken off the wheels by customers but people forget to look in the trunk. Occasionally, there's a brand new tire in there that hasn't seen the light of day since the moment it was purchased and placed there. I was able to buy a used tire machine, a Coats 10-10, from a farmer down in Millville NJ who had sold his farm to a developer and was selling off all his equipment.
The tires coming off the car were bald next to the "new" ones..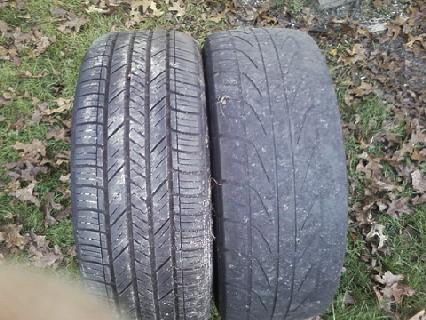 When I pulled the rim off the car, I looked all over the front (streetside) of it for the numbers that you spoke of but didn't find them.
I took some pictures of numbers molded into the back but as I am new taking pics w/phone, I didn't do very well.
I changed the tire, checked for leaks, and balanced it on a bubble balancer.
Have to run now to go to church. I'll get back later. Frankie