Joined

Jun 7, 2012
Messages

227
The BMW Z4 GT3 has claimed its first podium finish at the Nürburgring 24 Hours (DE): Maxime Martin (BE) brought the number 25 BMW Sports Trophy Team Marc VDS car home in second. As well as Martin, Yelmer Buurman (NL), Andrea Piccini (IT) and Richard Göransson (SE) were also in action over the course of the eventful race.
After 88 laps of the 25.378-kilometre circuit, the runner-up car was 2:39.781 minutes behind winning Mercedes drivers Bernd Schneider (DE), Jeroen Bleekemolen (NL), Sean Edwards (GB) and Nicki Thiim (DK). Because of this, BMW Sports Trophy Team Marc VDS narrowly missed out on securing a 20th overall victory for BMW at the endurance classic. With 19 triumphs to its name since 1970, BMW remains by far the most successful manufacturer in the Eifel. After fourth place last year, this result underlines just how at home BMW Sports Trophy Team Marc VDS is on what is possibly the toughest circuit in the world.
As well as Team Principal Bas Leinders' (BE) crew, BMW Team Schubert also finished with one car in the top ten. Claudia Hürtgen (DE), Dirk Adorf (DE), Jens Klingmann (DE) and DTM driver Martin Tomczyk (DE) refused to be discouraged by several minor set-backs and an unfortunate incident involving the team's second car. The number 20 BMW Z4 GT3 ended the race in sixth. A "Code 60" as early as the sixth lap caused a long tailback, which ended right behind a section with very poor visibility. Uwe Alzen (DE), in the cockpit of the number 19 car, was unable to avoid the final car in the tailback, which just so happened to be the team's second BMW Z4 GT3 with Hürtgen at the wheel. Fortunately, however, he did avoid a full-on impact. This collision ultimately resulted in Alzen and his fellow drivers Dirk Müller (DE) and Augusto Farfus (BR), who like Tomczyk had travelled straight from the DTM race at Brands Hatch (GB) to be at the Nürburgring, retiring from the race.
An accident also prevented the second BMW Sports Trophy Team Marc VDS car, driven by Leinders, Henri Moser (CH) and Markus Palttala (FI), from finishing what was, based on the actual driving time, the shortest ever 24-hour race at the Nürburgring. The fifth BMW Z4 GT3 in the field, driven by Henry Walkenhorst (DE), Ralf Oeverhaus (DE), Maximilian Partl (DE) and Wolf Silvester (DE), came home 17th. Motorsport fans in the "Green Hell" saw an eventful race, in which the weather played a crucial role. The race started in dry conditions at 17:00hrs on Sunday. Then, just as forecast, came the rain. This, together with thick fog on parts of the circuit, produced extremely difficult conditions. As a result, the race organisers suspended the 41st staging of the 24-hour race shortly after 23:00hrs. The enforced break that followed lasted over nine hours. Only at 08:20hrs did the race resume.
As well as the works-assisted teams, many privately-run BMW cars also thrilled the fans lining the iconic circuit again this year. BMW teams came home first in the D1T+D3T, SP10 GT4, SP 4+SP 5, SP 6, V4, V5 and V6 classes. This brings the total number of class victories achieved by BMW at the 24-hour race to 162.
Jens Marquardt (BMW Motorsport Director):
"This Nürburgring 24 Hours was once again packed with excitement – and featured an absolutely sensational final stint from Maxime Martin, who was able to overtake two rivals out on the track in the last few laps. Our race was initially blighted by the unlucky collision involving the two BMW Team Schubert cars, and then came the weather-inflicted stoppage during the night – and finally the joy at second place for BMW Sports Trophy Team Marc VDS. Over the past 24 hours, the legendary Nordschleife has once again shown us exactly what makes this circuit so special and so infamous. I am delighted for Bas Leinders' team and the four drivers in the number 25 BMW Z4 GT3. Back in 2012, BMW Sports Trophy Team Marc VDS narrowly missed out on a top-three finish in the Green Hell, and now it has its podium. The crew produced a flawless race, as did the drivers, so they really deserve second place. The way the number 20 BMW Team Schubert car fought back was also impressive. The team did not allow the huge misfortune at the start of the race to get them down, and battled back superbly to finish sixth. However, I would obviously like to thank all the many privateer BMW teams and the fans at the Ring, who defied the miserable conditions to once again produce a fantastic race and a unique atmosphere. Congratulations to Mercedes on its overall victory in the Green Hell."
Bas Leinders (Team Principal, BMW Sports Trophy Team Marc VDS):
"Of course we are all very proud of the whole team. Every member of this team has worked so, so hard to achieve a podium here. We came here for the win, but the win is an exclusive thing, it's very difficult to get there. Saying that, if you get a podium it means you've done a very good job. Everyone did an amazing job; drivers, engineers, mechanics, everyone. I think it's really good to see number 25 on the podium. With number 26 we had this incident with another car spinning on the track, but that's the Nordschleife. That's what makes it so special here, there are things you can't control. I have to thank BMW Motorsport and above all Marc van der Straten, because without his passion we wouldn't be here."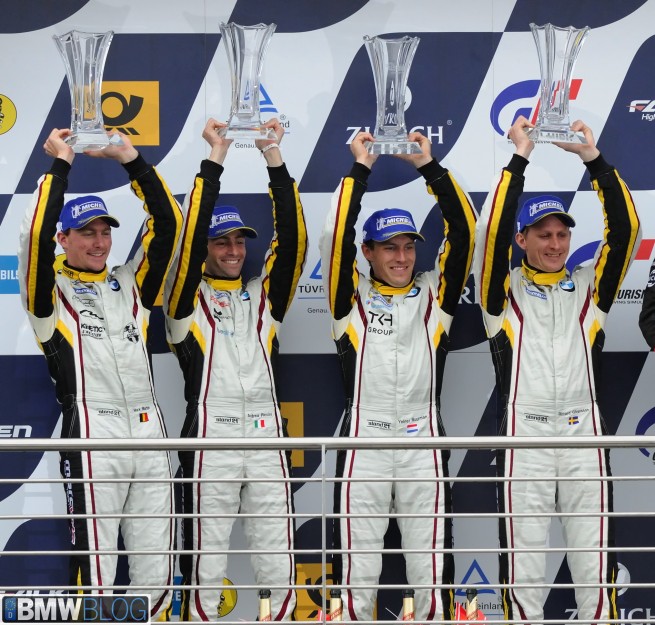 Maxime Martin (BMW Z4 GT3, car number 25, BMW Sports Trophy Team Marc VDS):
"It was really a very close race in the end. I knew I had to go flat out to catch the two Mercedes. That worked out superbly. We really wanted this podium. After finishing fourth on our first appearance here in 2012, it is simply fantastic to go even better now."
Yelmer Buurman (BMW Z4 GT3, car number 25, BMW Sports Trophy Team Marc VDS):
"The Nürburgring 24 Hours is an incredible race, which I really wanted to drive in. To have done that together with BMW and to be stood on the podium is awesome. Everyone in our team did a fantastic job."
Andrea Piccini (BMW Z4 GT3, car number 25, BMW Sports Trophy Team Marc VDS):
"That is a superb result. It was definitely the right decision not to race during the night. The conditions were simply too dangerous. When the race resumed, the key for us was not to make any mistakes. Maxime Martin then produced another perfect stint to take us into second place."
Richard Göransson (BMW Z4 GT3, car number 25, BMW Sports Trophy Team Marc VDS):
"The team had a great strategy – and it was clear to us that we had a chance of finishing runner-up. Maxime Martin then reeled in and overtook the two Mercedes at the end. That was fantastic. Thank you to the entire team. Everyone did an amazing job."
Stefan Wendl (Team Manager, BMW Team Schubert):
"We had high hopes for this race, so are quite disappointed. We were determined to finish on the podium, but the incident in the opening hour of the race dashed any hopes of us achieving this goal. Compliments to my team, who never gave up and recovered the lap we lost. Our drivers in car no. 20 never gave up and kept pushing. That's why we also take a lot of positives with us from this race. And we will give our all again next time, that's for sure."
Claudia Hürtgen (BMW Z4 GT3, car number 20, BMW Team Schubert):
"Congratulations to BMW Sports Trophy Team Marc VDS on second place. They did a good job, but I think they, like us, could have done even better in the right circumstances. You are never immune from problems on the Nordschleife, and you need that little bit of luck. Unfortunately luck was not on our side. We will have to go again next year."
Dirk Adorf (BMW Z4 GT3, car number 20, BMW Team Schubert):
"The team did everything right, and deserves huge praise. However, we were ultimately missing that necessary good fortune once again. We will be back to try again next year. It has to work out for us at some point."
Jens Klingmann (BMW Z4 GT3, car number 20, BMW Team Schubert):
"Congratulations to BMW Motorsport on the podium finish. BMW Sports Trophy Team Marc VDS really earned its podium and showed there was more in this race for us with the BMW Z4 GT3. The result is obviously not satisfactory, but, despite that, I am happy we still managed to cross the finish line in a decent position."
Martin Tomczyk (BMW Z4 GT3, car number 20, BMW Team Schubert):
"After the misfortune at the start of the race, which I did not see live because I was still in the plane on the way back from Brands Hatch, we did well to pull ourselves together. Our pace was good, but we obviously wanted to be up there challenging for the overall victory. We will try again next year. I certainly learned something about myself: even though it was a tough weekend, it is possible to drive in the DTM and straight afterwards at a 24-hour race."
The article
24 Hr of Nurburgring: BMW Z4 GT3 Takes Second Place
appeared first on
BMW BLOG
Continue reading...